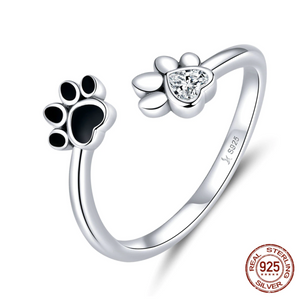 Our newest ring design!
The black and white paws symbolize the classic duality and balance of the yin and yang, representing how our dogs complete us. Wear it as an every day reminder of how your pet brings peace and balance to your life.

The ring is made of sterling silver, and the size is adjustable.
THIS RING FEEDS 7 SHELTER DOGS 
- 925 Sterling Silver
- Adjustable to Fit Most Finger Sizes