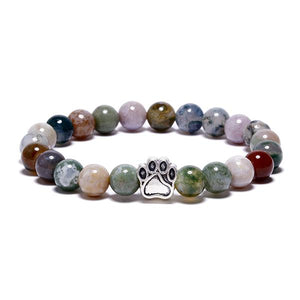 It's the bracelet that feeds shelter dogs, and this Agate Paw Bead bracelet was the one that started it all. This was our first bracelet!
Every time you look at your wrist, you'll be reminded of the special bond you share with dogs, and of the shelter dogs that are waiting to find their forever homes. When the beautiful Agate stone beads & signature Paw Charm catch peoples' eye, they'll undoubtedly ask you about it. You can proudly tell them your Paw Bead Bracelet fed shelter dogs.
The agate stone is known as a protective stone against negativity. It's an excellent stone for rebalancing and harmonizing mind, body, and spirit, and is known as the stabilizer. Wear this stone for support when you need stability and grounding in your life.


Each bead bracelet is handmade, subtly beautiful, and unique.
Get one for yourself, or stack a few for a unique look. Grab yours today. 
THIS BRACELET FEEDS 3 SHELTER DOGS
- Feeds Shelter Dogs
- Natural Agate Stone Beads
- Metal Paw Charm
- Stretches To Fit Most Wrist Sizes