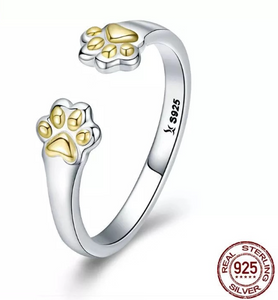 "I'll love you forever. As long as I'm living, my doggie you'll be."
Keep you dog forever close to your heart with this stunning ring.
Subtle... yet eye catching. The high quality 925 sterling silver gives this ring a dazzling shine. The paws are seamlessly integrated into the design, and unmistakably make the statement that you're a dog lover.
The ring is made of sterling silver, and the size is adjustable.
THIS RING FEEDS 7 SHELTER DOGS 
- 925 Sterling Silver
- Adjustable